Novelty to all rose lovers
Pot rose with seductive fragrance wins great prize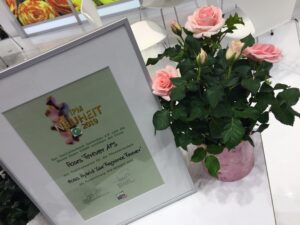 Rosa Eskelund – the internationally recognized rose breeder – has over the years created award-winning roses for the garden and the home. The latest news is a series of fragrant pot roses with large flowers, which has just won the Public Prize at the world's largest fair for plants.
Potted roses with fragrance in themselves are extremely difficult to breed, and when you further want them to be able to last for at least three weeks and at the same time have large flowers, there really is a challenge of the very big ones.
However, it did not hold the Danish and internationally recognized rose breeder Rosa Eskelund from taking up the challenge, and after 10 years of breeding work, she was able to present at the end of January the result of her efforts at IPM – the world's largest plant fair – in Germany. Here she showed four enchanting varieties with large fragrant roses and beautiful green leaves for an enthusiastic public who gave the Public Prize to the Danish rose breeder.
– It has been a long, but exciting journey, and when you are rewarded with the Public Prize, it has been worth all the effort. We had four different varieties at IPM in Essen, and they were all beautiful with their large flowers and beautiful fragrance, says a smiling Rosa Eskelund, who over the years has bred a wide range of international bestsellers under the brand names Infinity® and Roses Forever ®
Four new varieties
The new fragrant pot roses are sold under the name "Love Fragrance Forever" and their individual names – Yellow Love Fragrance Forever, Pink Love Fragrance Forever, Creme Love Fragrance Forever and Rosa Love Fragrance Forever – tell the color of the roses. The new varieties are ready on the market in March and are just as suitable for the home as well as a jar on the terrace.
Fragrance roses for reflection
Rosa Eskelund is a passionate rose breeder. The urge to create something new and unique is her driving force, but the exciting breeding work also gives time for a little thoughtfulness.
– Some time ago, I heard the phrase "Stop and smell the roses!" We are all so busy in our daily lives, and therefore it is important once in a while to "stop and smell the roses" and rejoice in the many wonderful things that surround us in nature. It can help us to slow down and get our eyes on everything that makes life so wonderful. It is more important than ever to take a break and be present in the present because otherwise we will miss the very special moments that make life so valuable, says Rosa Eskelund.